News & Events
Veteran's Smile Day
November 11, 2016 7:30am-5:30pm
We are getting ready for our second annual Veterans Day Smile event. We had such a successful event last year that we are again sponsoring a full day of free dental services for our local veterans. We are very excited to have other area dental offices join the effort and host their own events. Breton Gardens Family Dentistry will be providing a limited amount of appointment vouchers to eligible patients. Potential patients must call the office to pre-register. At this time the patient will be asked to answer a few basic health questions and provide some sort of proof of previous military service to verify eligibility. We will be providing services such as cleanings, x-rays, exams, fillings, extractions, and denture repairs. To pre-register please call our office at 616 455-0720. You must be registered by noon on Friday November 4 to recieve an appointment voucher.
---
School Supply Santa
Can you believe that it is almost August already?? WHERE DID THE SUMMER GO? Well with August comes one of our favorite community events! Breton Gardens Family Dentistry has teamed up with School Supply Santa for the second year in a row as a drop off site. Last year we were overwhelmed by the donations that our office collected, we are aiming to collect even MORE this time around!
Some items that you can donate:
New or gently used backpacks
Pencils/Pens
Markers/Crayons/Colored Pencils
Notebooks/Folders
Calculators
Glue/Rulers
Hand Sanitizer/Kleenex Packets
Or any other supplies that will put a smile on a child's face!
We will be collecting these items August 3rd through August 28th. 100% of your donation goes to help children in our local community!
---
April is Oral Cancer Awareness Month
Breton Gardens is excited to be partnering with the Oral Cancer Foundation in the effort to raise awareness for oral cancer. Dr. May, Dr. Mallory-May, and Dr. Singstock will be offering FREE oral cancer screenings during the month of April.
The free screenings will be by appointment only. Call to schedule your time as EARLY DETECTION SAVES LIVES.
Mark your calendars and we will see you in April.
---
Smile Design: Offering same day crowns
BGFD is excited to offer an innovative and revolutionary way to restore your teeth. We have partnered with Smile Design to provide 3-D imaging and CAD/CAM crowns. While the technology has been available for some time, the results from the first few generations were not up to BGFD standards. The Doctors are getting excellent results and patients are ecstatic. There is a real WOW factor with this!
If time and beauty are of paramount importance to then feel free to discuss with one of the Doctors how Digital Dentistry can help!
---
New Office Hours
Please be aware of our new office hours listed below.
Monday 7am-8pm
Tuesday 7am- 4:30pm
Wednesday 7am-8pm
Thursday 7am-4:30pm
Friday 8am-4pm
---
2013 Polar Plunge for Special Olympics
A few of your dental professionals here at Breton Gardens Family Dentistry dressed up as Tooth Fairies and participated in the East Grand Rapids Polar Plunge in Reeds Lake on February 23rd. These courageous girls raised over $1,000 for their first polar plunge and plan on going back at it next year.
Dr. Heather Mallory-May, Lauri Rice, Stephanie Zichterman, Stacy Finzel, and Amber Webber
---
Help on The Hill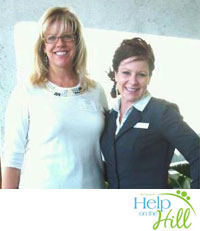 Help on the Hill 2013 was a hit. A few of your Oncologic Dental team members, Dr. Heather Mallory-May, Stephanie Zichterman, and Lauri Rice volunteered for the event to educate healthcare professionals and cancer patients for the Van Andel Institutes two day program.
"Help on the Hill is a free educational program that will allow cancer survivors, patients, family members, caregivers and healthcare professionals the opportunity to come inside the walls of a world-class cancer research institute. For two days the latest research and breakthroughs in cancer will be discussed. This program is for anyone who would like to learn more about cancer and will provide insight and answers that will be of benefit. Make new friends, learn something new, establish a network of support and feel empowered to conquer cancer!"
To find out more or to become part of the registry, please call us today and we will get you in during a time that works for you!
---
Take a Bite Out of Cancer
Throughout May, the Leukemia & Lymphoma Society and the Michigan Dental Association are conducting the largest bone marrow drive in the state. The goal…. Collect 10,000 names for the registry and raise $50,000 in support of cancer research.
It's free, it's easy, and it's painless!
You can be part of the registry today! Because there are not enough registered donors, the probability of finding a match is still very low. This is why every donor counts! Each one of us can potentially save a life! To register as a bone marrow donor, you must meet requirements listed at our office, and complete the registration form. Once inside our office, you will be asked to swab the inside of your cheek and hand the swab stick to the dental staff who will place it in a bar coded, sterile envelope to be typed. Your tissue type will then be listed anonymously on the international bone marrow registry. All information is strictly confidential.
To find out more or to become part of the registry, please call us today and we will get you in during a time that works for you!
Go Red For Women Wine Tasting Event, Dr. Heather Mallory-May teaming with American Heart Association
Heart disease is still the No. 1 killer of women, taking the life of 1 in 3 women each year. This means women just like you - mothers, sisters, friends - are dying at the rate of one per minute because they don't know what you know: Heart disease kills.
It simply does not have to be that way. Go Red for Women is the American Heart Association's solution to save women's lives and the Circle of Red is a powerful, passionate group of people dedicated to making an impact in our community's fight against heart disease.
The Circle of Red is a great place to build professional relationships and gain personal long lasting friendships. Circle of Red members influence and and resources to help rally women to take charge of their heart health.
Dr. Heather Mallory-May, your local Circle of Red member hosted a Wine Tasting Event in her office to help with the cause. We were able to raise funds and most importantly spread the word.
---
Teaming with Metro Health Cancer Center and U of M!
The absolute soul of our company is care and compassion. As such, Dr. May, Lauri Rice, and Stephanie Zichterman have embarked on an ambitious project to help cancer patients deal with their difficult treatment. Breton Gardens has teamed up with Metro Health Cancer Center and University of Michigan Health System to provide services, guidance, and education to the center's patients and doctors. Our goal is to improve the quality of life and positively impact treatment outcomes.
---
Dr. Mallory-May becomes a member of the Academy of Dental Sleep Medicine.
Oral Appliance Therapy is an appliance designed to reposition the lower jaw and tongue forward, to open the airway for improved airflow when sleeping. It is a safe alternative to using a CPAP machine for treating obstructive sleep apnea and an easy method to help treat snoring.
---
Circle of Red Club
We are proud to announce that Dr. Heather Mallory-May is now a member of the Circle of Red Club.
Go Red for Women is the American Heart Association's nationwide movement that celebrates the energy and passion that women have to wipe out heart disease, the no. 1 killer of women.
For more information or interest in becoming part of the Circle of Red Club go to
www.GoRedforWomen.org
.
Dr. Mallory-May and our assistant Mary attended the Go Red For Women event on February 26th. By supporting the American Heart Association through this important event, they're helping provide knowledge and tools to empower the women in our community to make positive changes in their lives that could help reduce their risk of heart disease and stroke.
---
Dr. Mallory-May to give a lecture at the Van Andel Institute in the 2nd "Help on the Hill" Event.
We are very excited to announce that our own Dr. Heather Mallory-May has been invited to give a lecture at the Van Andel Institute. This world class cancer research facility will be hosting its 2nd "Help on the Hill" event on September 16 and 17. This event is for cancer patients, survivors and cherished care givers. Van Andel Institute is a world leader in cancer research "Help On the Hill" is open to the public, with pre-registration required.
This is a great 2 day event that offers cutting edge information and a whole boat load of HOPE. Visit the Van Andel Institutes website at
www.vai.org
for more info and registration forms.